Tuesday, October 25, 2005
For now we are...
Dead.
No, seriously.
I don't have time to update right now (school), and the story line wasn't exactly
coherant
and what not, so I got all ick with it, and yeah. For now I quit.
Maybe we'll come back later.
Maybe.
Friday, October 07, 2005
Ugh... oh dreadful day..
Jody rant!


Okay, so today I was quite sick, and slept a lot, and did not feel like finishing this week's comic.
So I scribbled this instead. Joy.
HERE ARE SOME GOALS of mine...
Move this comic to it's comic genesis home
Get past this storyline so I can archive the terrible drawings and move on
Move on to a more journal type webcomic with the same (and some new!) characters
Make this webcomic into something I can be proud of... and show people I know irl
Stop feeling OOKY ::burp::

Friday, September 30, 2005
005: Operation Tachyon!
Jody
Yay! There is actually a comic up today!
Still haven't moved to the new site, yes I know. I've been very busy, and it will probably not happen until Fall break (so there!).
And yes, there are spelling mistakes... so sue me, I'm doing this all by myself!
Friday, September 09, 2005
Today's comic!
sorry... and we're mid move to
comic genesis!
Yay!
Friday, August 26, 2005
Freaky Friday
No, Seriously! No comic today... BUT...
HAPPY BIRTHDAY DANIEL!
CONGRATULATIONS ON LIVING THROUGH YOUR FIRST WEEK OF COLLEGE JODY!
Today's comic is lame! I drew it between classes (I had four today) and I have to shower, nap, and eat before 8pm cause I've got a concert to go to, so lamecomic today.
So yeah, you get something that's for Daniel only. I hope he likes his gift. We, my sisters and I, got him a book... on Ninjutsu. Muwahahaha.
Friday, August 19, 2005
004: Bach Budgies of DOOM!
This is post-dated (today is the 26th actually) and here's what I need... feedback!
Yeah, I know, I have no readership, so the quest for feedback is silly.
I've been considering going over to smackjeeves comic hosting or ComicGenesis because I want something prettier... if I can get a Keenspace (aka ComicGenesis) account (trying to right now) I would move like that *snap*. Smackjeeves doesn't have a direct enough website... for example, last week's comic:
clicky clicky!


So tell me what you think of other hosting solutions.
Edit: The link no longer goes to smackjeeves's site... we got onto ComicGenesis finally, and will probably move there soon! But not this week! Jody-08/31
Friday, August 12, 2005
OO3: O Canada!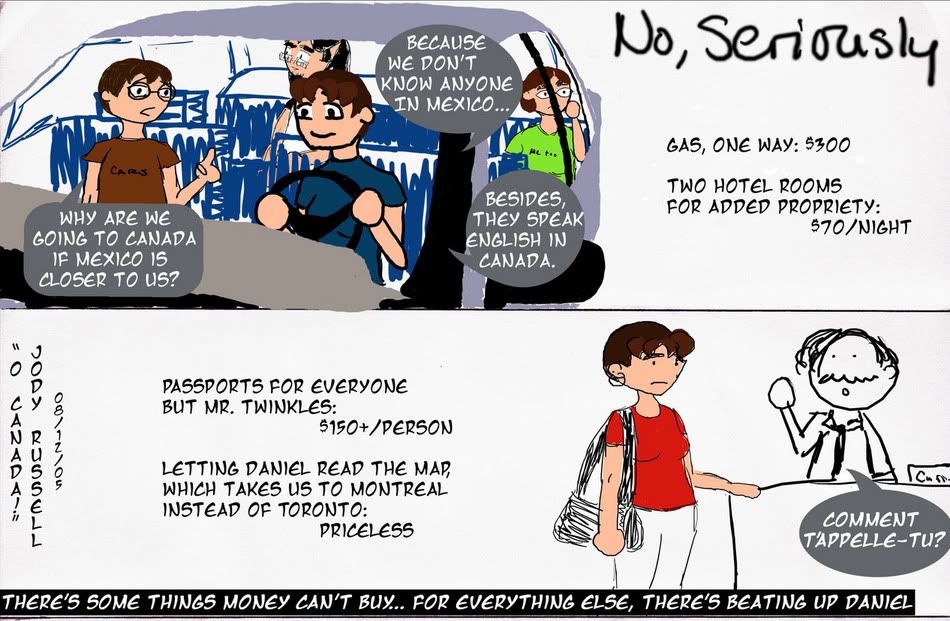 Jody
I got a graphics tablet this week (yay!). That's why it's all colorful and stuff... still getting used to it, so this weeks may seem a bit... odd. Anyways, we've gotten to Canada! Or have we?! I screwed around this week, so instead of doing tons of drawing I cut out panels 2 and 3, squishing all the action into two panels (yes, Jody is obviously trying to get them all in to Canada while everyone is in the bathrooms, that's why she's at the counter alone ;)...). The car, for those who are curious, is mine: '94 Chevy Lumina. Sweeeet ride.